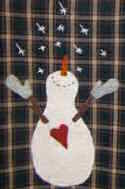 If you like some immediate gratification in your life, then wool appliqué is for you! These projects are fast and fun. With raw edge appliqué there are no edges to turn under. Appliquéd towels make great little gifts. Be sure to make a couple for yourself, too!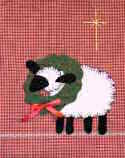 What's the difference between WoolFelt® and felted wool? I sometimes mix these terms up but there is a difference. WoolFelt®, made by National Nonwovens, is a felt product made with wool and rayon. As their company name implies, it is not a woven fabric. You need to wash it before using it, which gives it a soft fleece-like texture. It is very different from regular craft felts. Check out their website (see links page) for more information, including a printable version of the washing instructions. On the other hand, felted wool is a woven wool fabric. To felt wool you need to wash it in a crowded washing machine (to supply friction with the agitation) with hot water and dry in a hot dryer. Just the opposite treatment you want to give wool garments that you ever want to wear again! The good news is that if you ever accidentally do this to a nice wool skirt, you don't have to feel too badly because now you have another use for it!

I recommend a fabric glue stick to hold your appliqué pieces in place while you're stitching them down. Pins will work too, but your threads will get caught on them, which will slow you down. I have not included diagrams for stitches in the patterns because that has been done so many times before and stitch dictionaries are so readily available. Look on the Links page for some great sites that provide this information.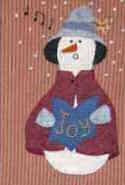 If you have not tried wool appliqué before I heartily recommend it. It's nice to have a project that doesn't require sitting down at the sewing machine. Working with wool and WoolFelt® is so enjoyable and forgiving that I know you will love it too!